Top 10 home trends in 2018
2017 was a big hit with Scandi style thanks to our trusty obsession with Kmart and their new trendy décor lines. Homes on the market within the Carrum Downs and Skye areas were styled to perfection with the modern alternative to home living with a colour pallet of muted pastels, greys and were accented by rose gold & matte finishes and loads of succulents.
It seems that 2018 will follow this trend, with simplicity and balance back in a big way. Colours are continuing the muted trend; however, pinks are out and purples are in, with 'Ultra Violet' (yes, the Donovan's purple) being set as the Pantone colour of the year! Earthy tones that compliment this purple, including orange, red and olive greens are the top of the most wanted list, as well as the lighter colours to accompany the bolder edgy tones.
---
1. BIG AND BOLD!
Think big accent pieces; large orange armchairs, red picture frames, green side tables and BIG indoor plants. Big and bold with relaxed warm tones are in – pastel colours are out!
2. Patterns
Geometric patterns will be making another big statement in 2018, with cushions and accessories taking the forefront on the pattern scale. Tribal is also forecast as a popular choice, especially with the colour story predictions, with their bold shapes and bohemian aesthetics a perfect contrast.
3. Comforting cool tones
2018 will be all about balance, therefore cool colours such as cool grey, whites and lighter olive greens will be the 'in' thing once the new year hits. They serve as complimentary backdrops to the warmer, bolder accents in your home, creating a relaxing space to sit and stop after a hard days work.
4. The 'imperfectly perfect'
Up-cycling and creating new from old will be back in this year. Side tables with a bit of wear and tear, exposed and unfinished timber surfaces and raw metals are set to be at the forefront of this trend. Think 'natural' and you'll hit this trend right on the head!
5. Being Green
Talking of nature, who doesn't love a plant? 2018 is a massive fan of them. They will be set to be bigger than before, with fiddle leaf fig trees and ferns making their way inside homes, and more greenery than soft furnishings!
6. Calm
Reading nooks and hide-aways will make an appearance this year in a BIG way. After what some called one of the emotionally exhausting years in 2017, we're all looking for a little relaxation, and there's nothing better than creating your own little nook of cosiness to cure a 2017 hangover.
7. Textures
Need to soften those warm, large accents we spoke about earlier? Try adding a frayed edged, a velvet cushion, or a nice knitted throw over the couch. Introduce different textures with the trending colour story for 2018 and have your home looking like perfection in no time!
8. Curvey
Geometrics are fine for accessories and accents, but when it comes to your larger pieces such as furniture and lighting, the trick is to go softer. Again, balance is key. Matching your hard lines with soft edges will set the tone for the entire home.
9. That personal touch…
In every home there needs to be a personal touch. Warmth doesn't just come from colour and texture, it comes from heart and family. Warm up your home with a gallery wall in simple timber frames, with a few in accent colours to brighten it up against the muted walls. Pop onto our Pinterest page for ideas!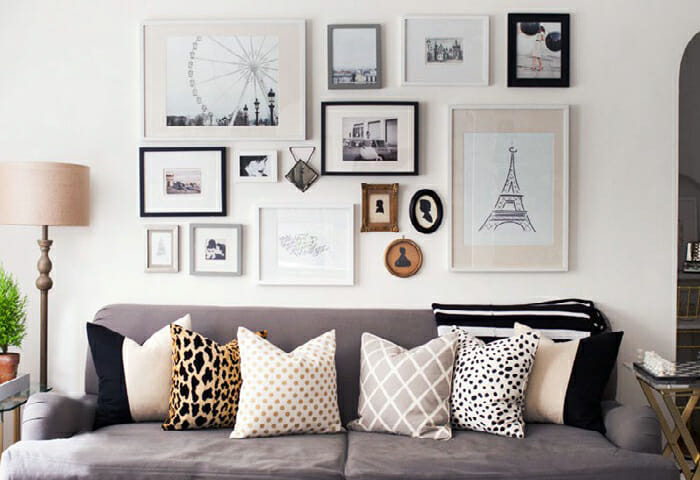 10. Get Techy
Google home… scary, or brilliant? The more time goes by, the techier the world seems to get. Google home provides an amazing way to tie everything in together, including the family schedules and even helps with the cooking with recipe ideas (or tunes to keep you entertained in the kitchen!)
---
To see more, please follow our facebook page here>> or email

[email protected]

with your home address to recieve the latest issue of Donovan News straight to your letterbox!